Moldova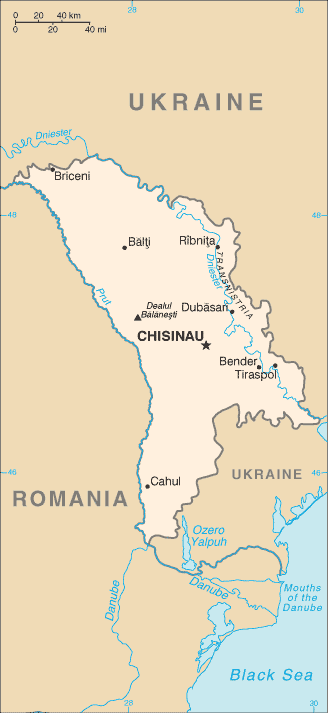 Map Courtesy CIA World Factbook
The Republic of Moldova, sometimes called Eastern Moldova, is a landlocked country in eastern Europe, located between Romania to the west and Ukraine to the east. Its border with Romania follows the Prut and lower Danube rivers.
Moldova's territory was inhabited in ancient times by Dacians. Situated on a strategic route between Asia and Europe, Moldova has suffered from several invasions, including those of the Kievan Rus and the Mongols.
During the Middle Ages the territory of Republica Moldova (including most of present-day Moldova but including also districts to the north and south, known as Northern Bukovina and Bugeac) formed the eastern part of the principality of Moldavia (which, like the present-day republic, was known in Romanian as "Moldova"). The principality became tributary to the Ottoman Empire during 16th century, following the Treaty of Bucharest in 1812, it was annexed by Russia as Bessarabia. The western part of Moldavia remained an autonomous principality and united with Wallachia to form the Kingdom of Romania in 1859.
At the end of World War I, Bessarabia proclaimed independence from Russia in 1918, and united with the Kingdom of Romania the same year. The Soviet Union occupied Bessarabia in June 1940 in an agreement with Germany expressed in the Molotov-Ribbentrop Pact, and though forced out again in 1941, Soviet troops reoccupied the area in August 1944. Under Soviet rule the southern and northern parts (inhabited by Ukrainians and Romanians) were transferred to Ukraine and Transnistria (largely inhabited by Russians) joined with the remainder in a Soviet republic called the "Moldavian Soviet Socialist Republic" covering Moldova's current territory. Under Stalin, ethnic Russians were brought into the new country, especially into urbanized areas, while many ethnic Romanians were deported to Siberia and Kazakhstan.
When the Soviet Union collapsed in August 1991, Moldova declared its independence, becoming a member of the post-Soviet Commonwealth of Independent States, that December, along with most of the former Soviet republics.

Initially, there was a movement to reunite with Romania, but a March 1994 referendum saw an overwhelming majority of voters favouring continued independence. In the 2001 elections, the Communist party won a majority of seats in the Parliament and appointed a Communist president, Vladmir Voronin. Once again in the election held in 2005, the Communist party was re-elected and appointed Voronin for a second term. Despite great strain and attemped influence on the election, the Russians sent to "keep watch" over the election were not allowed in the country. In effect, the Russian-Moldovan ties have become greatly weakened, and the nation is split between building ties with Romania or Russia.