Latvia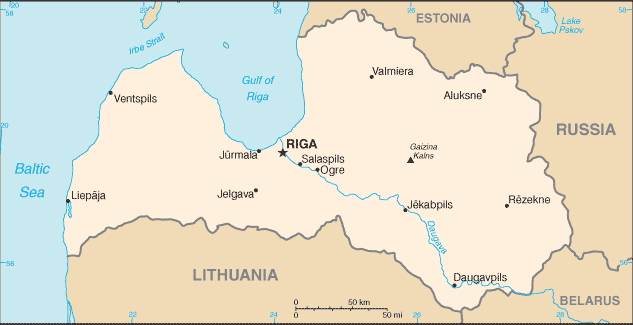 Map Courtesy CIA World Factbook
The Republic of Latvia (Latvian: Latvijas Republika), or Latvia (Latvian: Latvija), is a country in Northern Europe. Latvia has land borders with its two fellow Baltic states — Estonia to the north and Lithuania to the south — and Russia and Belarus to the east. In the west Latvia shares a maritime border with Sweden. The capital of Latvia, Riga (Latvian: Rīga), is the largest city in the Baltic States.
Known for the most part as Livonia, the area that now constitutes Latvia was under the influence of the German Sword Brethren from the 13th century onward. However, in the 18th and 19th century, Russia gained control over Latvia and neighbouring regions. With Russia devastated by revolution and World War I, Latvia declared its independence on November 18, 1918.
During the 1920s and early 1930s, Latvia enjoyed an elected, republican government. Its constitution was adopted on February 15th, 1922. It acknowledged that the people were, themselves, sovereign, and provided for the proportional election of their representatives by all Latvians at least 21 years of age. As with most democratic governments, it was a multi-party system, with between 22 and 28 parties, at any given time, holding at least one seat in the parliament, called the Saeima. Governments (parliamentary governments refer to the administration in power as a "government", not to be confused with the formal entity running a given region, also called "government", such as the United States government) were usually organized by coalitions of parties, forming a large enough percentage to control the whole.
This system was overthrown by its own Prime Minister, in a military coup in 1934. Latvia became an authoritarian state. Its independence lasted only briefly, as the Soviet Union annexed the country on 17 June 1940 in accordance to the Soviet-German agreement (Ribbentrop-Molotov pact) of 1939.
Except for a brief period of German occupation during World War II, Latvia was part of the Soviet Union until the country regained its independence on 21 August 1991. In 2004 the country became a member of both NATO and the European Union.