Bulgaria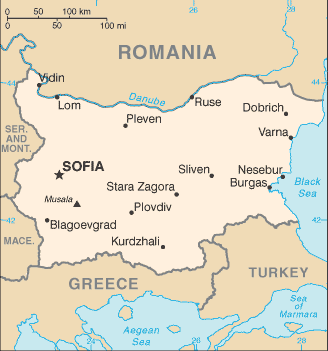 Map Courtesy CIA World Factbook
The Republic of Bulgaria is a republic in the southeast of Europe. It borders the Black Sea to the east, Greece and Turkey to the south, Serbia and Montenegro and the Republic of Macedonia to the west, and Romania to the north along the river Danube.
In the late 7th century a branch of the Bulgars led by Khan Asparuh migrated into the northern Balkans, where they merged with the local Slavic and Thracian population to form the first Bulgarian state in 681 AD. Bulgaria was a significant European power in the 9th and the 10th century, while fighting with the Byzantine Empire for the control of the Balkans. The Bulgarian state was crushed by an assault by the Rus in 969 and completely subdued by a determined Byzantine assault under Basil II in 1018.
It was re-established in 1185 and continued to be an important power in the European south-east for two more centuries, while fighting to assert its place in the region with the Byzantine Empire, the Crusader states in Greece, as well as Hungary. By the end of the 14th century the country was overrun by the Ottoman Empire. An autonomous Bulgarian principality comprising Moesia and the region of Sofia was established in 1878 following the Russo-Turkish War, 1877-78. After uniting with Eastern Rumelia in 1885, the principality was proclaimed a fully independent kingdom in 1908.
During 1912 and 1913 it became involved in the Balkan Wars, a series of conflicts with its neighbours, during which Bulgarian territory varied in size. During World War I and later World War II, Bulgaria found itself fighting on the losing side. Despite that fact, Bulgaria saved the lives of its own 50,000 Jews from the Nazi death camps by refusing to comply with a 31 August 1943 resolution, which demanded their deportation to Auschwitz.
Bulgaria fell within the Soviet sphere of influence after World War II and became a People's Republic in 1946. Communist domination ended in 1990, when Bulgaria again held multiparty elections. Bulgaria joined NATO on 29 March 2004 and is set to join the European Union on 1 January 2007 after signing the accession treaty on 25 April 2005.