Croatia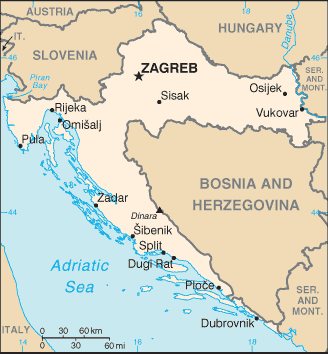 Map Courtesy CIA World Factbook
The Republic of Croatia is a crescent-shaped country in Europe bordering the Mediterranean, Central Europe and the Balkans. Its capital is Zagreb. In recent history, it was a republic in the SFR Yugoslavia, but it achieved independence in 1991. It is a candidate for membership of the European Union.
The Croats are a largely Slavic people who lived in the area of what is today Galicia (in Ukraine and Poland). From there they migrated further south to present-day Croatia during the 7th century. Croatia became one of the most powerful kingdoms in the region, but in 1102 the Croatians ended a decade-long dynastic struggle by agreeing to submit themselves to Hungarian authority. By the mid-1400s, the Hungarian kingdom was gravely impacted by the Ottoman expansion while Dalmatia became mostly Venetian. The Republic of Dubrovnik was independent.
The Battle of Mohács in 1526 led the Croatian Parliament to invite the Habsburgs, under Ferdinand I, to assume control over Croatia. Habsburg rule eventually did prove to be successful in thwarting the Ottomans, and by the 18th century, much of Croatia was free of Turkish control. Istria, Dalmatia and Dubrovnik all eventually passed to the Austro-Hungarian Empire between 1797 and 1815.
Following World War I and the demise of Austria-Hungary, Croatia joined the Kingdom of Serbs, Croats and Slovenes (which became Yugoslavia in 1929). Yugoslavia was invaded during World War II and Croatia was made into a fascist puppet-state named the Independent State of Croatia. After the defeat of the Axis powers, Yugoslavia became a federal socialist state under the strong hand of Josip Broz Tito.
Although Croatia declared its independence from Yugoslavia in 1991, it took four years of sporadic and often bitter fighting with the Serbs before the end of the war in 1995. Peaceful reintegration of all rebel territories was completed in 1998 under UN supervision.
Croatia applied for European Union membership in 2003 and the EU leaders accepted it as an official candidate country in 2004. As of March 2005, Croatia's candidacy was put on indefinite hold due to Carla del Ponte's assertion that Zagreb had not fully cooperated with the International Criminal Tribunal for the former Yugoslavia with regards to the apprehension of the fugitive alleged war criminal and former General, Ante Gotovina.