Czech Republic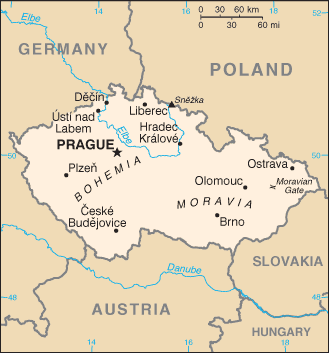 Map Courtesy CIA World Factbook
The Czech Republic (Czech: Česká republika), is a landlocked country in Central Europe. The republic borders Poland to the north, Germany to the northwest and west, Austria to the south, and Slovakia to the east. Historic Prague (Czech: Praha), a major tourist attraction, is its capital and largest city. The country is composed of two older regions, Bohemia and Moravia,
and part of a third one, Silesia.
The Czech lands emerged in the late 9th century when it was unified by the Premyslids. The kingdom of Bohemia was a significant local power, but religious conflicts such as the 15th century Hussite Wars and the 17th century Thirty Years War were devastating. It later came under the Habsburg influence and became part of Austria-Hungary.
Following the collapse of this state after World War I, the Czechs and neighbouring Slovaks joined together and formed the independent republic of Czechoslovakia in 1918. This new country contained a large German minority, which would lead to the dissolution of Czechoslovakia when Germany successfully annexed the minority through the Munich Agreement in 1938, and Slovakia gained greater autonomy, with the state renamed "Czecho-Slovakia". Slovakia broke away further in 1939 and the remaining Czech state was occupied by the Germans.
After World War II, a reconstituted Czechoslovakia fell within the Soviet sphere of influence. In 1968, an invasion by Warsaw Pact troops ended the efforts of the country's leaders to liberalise party rule and create "socialism with a human face" during the Prague Spring. In 1989, Czechoslovakia regained its "freedom" through a peaceful "Velvet Revolution". On January 1, 1993, the country peacefully split in two, creating independent Czech and Slovak republics.
The Czech Ministry of Foreign Affairs in 1993 announced that the name Czechia (Czech: Česko) is to be used in all situations other than formal official documents and the full names of government institutions but this is controversial in the Czech Republic and has not caught on in English usage. See also: Czech lands.
The Czech Republic joined NATO in 1999 and the European Union in 2004.