Estonia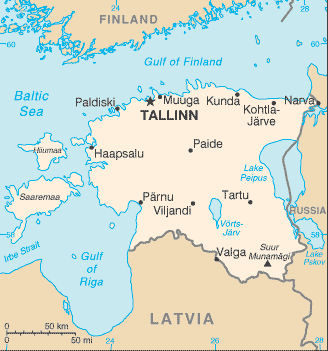 Map Courtesy CIA World Factbook
The Republic of Estonia is a country in Northern Europe, bordering the Baltic Sea to the west and the Gulf of Finland to the north. Estonia has land borders with its fellow Baltic state, Latvia, to the south, with Russia to the east, and maritime border with Finland to the north.
Estonia has been populated by the native Finno Ugric Estonians since prehistory. It was first christianised when the German "Livonian Sword Brethren" and Denmark conquered the land by 1227. Subsequent foreign powers that controlled Estonia at various times included Denmark, Sweden, Poland and finally (1710 de facto, 1721 de jure) Russia. However, the upper classes and the higher middle class remained primarily Baltic German until roughly 1918; the Germans who had stayed then were either forced by Hitler or later Stalin to leave during or after the end of World War II.
Following the collapse of Imperial Russia after the October Revolution, Estonia declared its independence as a republic on February 24, 1918. It maintained this independence for twenty-two years, and the very same parliamentary government was reinstated in 1992, after the collapse of the Soviet Union. It included a parliament called Riigikogu, elected by all Estonians age 20 or above. In 1934, the parliamentary government was replaced with a more centralized, authoritarian system by President Konstantin Päts.
The country was included in the Soviet Union in June 1940, as a consequence of the Molotov-Ribbentrop Pact between Nazi Germany and the Soviet Union. Many of its political and intellectual leaders were repressed or killed, including Estonia's first president Konstantin Päts, who was deported to Siberia. The country was occupied by the Third Reich from 1941 to 1944, when Soviet forces reconquered it. Estonia regained its independence on August 20, 1991, with the Singing Revolution and the collapse of the Soviet Union. August 20 is now a national holiday in Estonia. The last Russian troops left on August 31, 1994, and Estonia joined NATO on March 29, 2004 and the European Union on May 1, 2004.
Estonia signed a border agreement with Russia on May 18, 2005, slightly redefining the border they had been using since 1991, which the Riigikogu, the Estonian parliament, ratified on June 20, 2005. The treaty awaits ratification by the Russian Duma, the country's parliament.