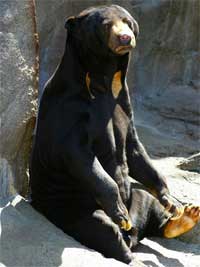 Sizes and Scales: The Sun bear stands approximately four feet (1.2 m) in length, making it the smallest member in the bear family. It is often called the Dog bear because of its small stature. It has a two-inch (3 cm) tail and on average weighs less than 145 pounds (65 kg). Males tend to be slightly larger than females.
Fur: short and sleek... Unlike other bears, the Sun bear's fur is short and sleek. This adaptation is probably due to the lowland climates it inhabits.
Make Your Markings: Dark black or brown-black fur covers its body, except on the chest where there is a pale orange-yellow marking in the shape of a horseshoe. Similar colored fur can be found around the muzzle and the eyes. This distinct marking gives the Sun bear its name.
Claws for Climbing: The Sun bear possesses sickle-shaped claws that are relatively light in weight. It has large paws with naked soles, probably to assist in climbing. Its inward-turned feet make the bear's walk pigeon-toed, but It is an excellent climber.
It has small, round ears and a short muzzle.


Tree Lover: As primarily nocturnal creatures, the Sun bear tends to rest during the day on lower limbs not far above the ground. Because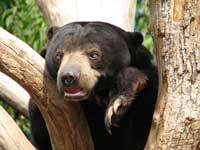 it spends so much time in trees, the Sun bear can sometimes cause a good amount of damage to private property.
Coocoo for Coconuts:
It has been known to destroy coconut palms and cocoa trees on plantations. Hunting of nuisance bears is a major cause for the recent decline in the Sun bear population, as well
as poaching for its fur and for use in Chinese medicine.
Diet: The diet of the Sun bear varies widely and includes small vertebrates such as lizards, birds, and other mammals, in addition to fruits, eggs, termites, the young tips of palm trees, nests of bees, berries, sprouts, insects, roots, cocoa and coconuts. Its powerful jaws can crack open nuts. Much of the Sun bear's food must be detected using its keen sense of smell as its sight is poor.


The Birds and the Bees: The Sun bear does not hibernate and as a result it can reproduce year-round. It is not uncommon for it to give birth to two cubs at a time weighing approximately 10-12 ounces (280 to 340 g) each. The gestation period is about 96 days, but suckling can continue for about 18 months. The offspring reach sexual maturity after 3-4 years, and live up to 28 years in captivity.


There is one subspecies of Sun bear (Helarctos malayanus euryspilus) other than the nominate, found only on the island of Borneo.
The Malayan name for the Sun bear is basindo nan tenggil, which is translated as 'he who likes to sit high'.
The Indonesian name for the Sun bear is beruang Madu, which means Honey bear.
All text is available under the terms of the GNU Free Documentation License