Just the Facts: Males can weigh up to 130 kg, and females 60 kg. They are found in several areas of northern and western South America, including western Venezuela, Colombia, Ecuador, Peru, western Bolivia, northwestern Argentina, and southern Panama. Spectacled bears are the only surviving species of bear native to South America, and the only surviving member of the subfamily Tremarctinae.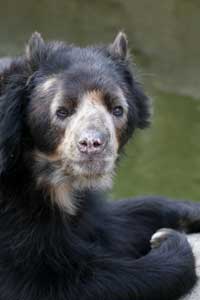 Habitat and Home: The bears make their habitat around the Andes tropical basin, where an abundance of water and vegetation provides an adequate supplement to their very basic dietary needs of roots, leaves, shoots, berries, occasionally insects, rodents and carrion. They are nocturnal and crepuscular, and do not hibernate (though they will den up in inclement weather). Being an arboreal bear, the Spectacled Bear lives mostly in dens near high canopy tropical rainforests, or occasionally in the surrounding trees to avoid danger of predatory mammals.
Eager Climbers: The young bears have an instinctive urge to climb trees, rocks, and cliffsides from birth as the inordinately protective mother teaches it to reach the highest and most nutritious foods.
Cloud Forests: Spectacled Bears are most closely associated with high altitude Andean cloud forests above 2,000 m, where epiphytic bromeliads form a major part of their diet. They are more rarely found in lowland rainforest and the dry, coastal forests on the Peru-Ecuador border.
Spectacled Society: Although the bears tend to isolate themselves from one another to avoid competition, they are non-territorial. When encountered by humans or other Spectacled Bears, they will react in a docile but cautious manner, unless the intruder is seen as a threat or a mother's cubs are endangered. Mothers are recorded to have attacked poachers in an extremely brutal fashion, though no deaths have been recorded by South American state governments.
Large Schnoz and Claws: The Spectacled Bear is adapted to the rainforest as it has a very keen sense of smell and a large nose for finding food in small soil crevices and in high tree canopies. It also has sharp, elongated claws for digging root systems and uprooting plants.
Is That Really You?The bear can also recognise different individual bears by recognition of the spectacle marking on each species' nose and upper chest. The bear is able to plan itspregnancy and labour in order to give birth in the most plentiful food season.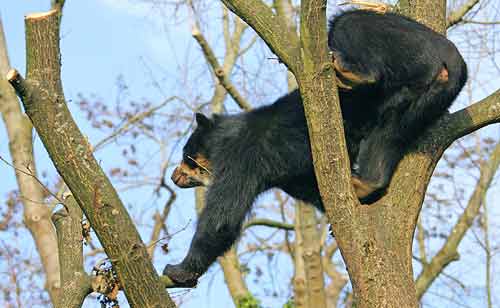 All text is available under the terms of the GNU Free Documentation License