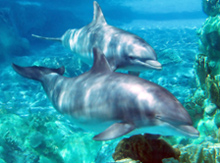 They vary in size from 1.2 m (4 ft) and 40 kg (88 lb) (Maui's dolphin), up to 9.5 m (30 ft) and 10 tonnes (the Orca). However, the average length for most North American species is 13.89 feet in length. Most species weigh about 50 to 200 kg (110 to 440 lb).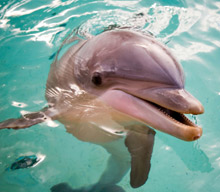 The smartest animal? Dolphins are widely believed to be among the most intelligent of all animals, though it is hard to say just how intelligent dolphins are, as straightforward comparisons of species' relative intelligence are complicated by differences in sensory apparatus, response modes, and nature of cognition. Furthermore, the difficulty and expense of doing experimental work with large marine animals means that some tests that could meaningfully be done still have not been carried out, or have been carried out with inadequate sample size and methodology.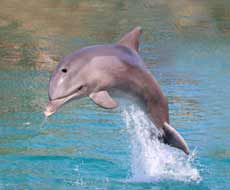 Leaping acrobats and mischievous pranksters: Dolphins often leap above the water surface, sometimes performing acrobatic figures (e.g. the Spinner dolphin). Scientists are not quite certain about the purpose of this behavior, but it may be to locate schools of fish by looking at above water signs, like feeding birds. They could also be communicating to other dolphins to join a hunt, attempting to dislodge parasites, or simply doing it for fun. Play is a very important part of dolphins' lives and they can often be observed playing with seaweed or play fighting with other dolphins. They have even been seen harassing other creatures, like seabirds and turtles. Dolphins also seem to enjoy riding waves and are frequently seen 'surfing' coastal swells and the bow waves of boats.
Good luck dolphins: They are also famous for their willingness to occasionally approach humans and playfully interact with them in the water. In return, in some cultures like in Ancient Greece they were treated with welcome; a ship spotting dolphins riding in their wake was considered a good omen for a smooth voyage. There are many stories of dolphins protecting shipwrecked sailors against sharks by swimming circles around the swimmers. A school of dolphins is also said to have pushed a fishing boat that was returning to shore back out to sea after sensing the underwater disturbances generated by the 2004 Asian Tsunami.
Strong bonds in social pods : Dolphins are social animals, living in pods (also called "schools") of up to a dozen animals. In places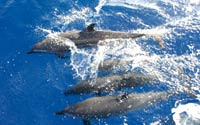 with a high abundance of food, schools can join temporarily, forming an aggregation called a superpod; such groupings may exceed 1000 dolphins. The individuals communicate using a variety of clicks, whistles and other vocalizations. They also use ultrasonic sounds for echolocation. Membership in schools is not rigid; interchange is common. However, the animals can establish strong bonds between each other. This leads to them staying with injured or ill fellows for support.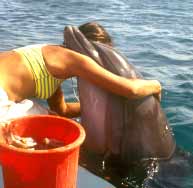 Favorites with humans: Because of their high capacity for learning, dolphins have been employed by humans for any number of purposes. Dolphins trained to perform in front of an audience have become a favorite attraction in dolphinaria, for example SeaWorld. Such places may sometimes also provide an opportunity for humans to interact very closely with Dolphins. Dolphin/Human interaction is also employed in a curative sense at places where dolphins work with autistic or otherwise disabled children.

Ground control to major dolphin: The military has employed dolphins for various purposes from finding mines to rescuing lost or trapped persons. Such military dolphins, however, drew scrutiny during the Vietnam War when rumors circulated that dolphins were being trained to kill Vietnamese Skin Divers. Reports of cooperative human-dolphin fisheries date back to Pliny. A modern human-dolphin fishery was reported in Laguna, Santa Catarina, Brazil in 1990.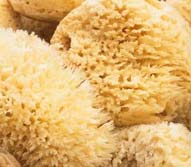 Sponge masks: In May 2005, researchers in Australia discovered a cultural aspect of dolphin behavior: Some dolphins (Tursiops aduncus) teach their offspring to use tools. The animals break off sponges and carry them over their snouts, thus protecting he delicate body part from dangerous creatures (like stonefish with venomous spines) during their hunt for fish on the seabed, and also dislodging fish they can snap up. This knowledge of how to use a tool is mostly transferred from mothers to daughters in dolphins, unlike simian primates, where the knowledge is generally passed onto all the offspring, irrespective of sex. The technology to use sponges as snout protection is not genetically inherited but a taught cultural behavior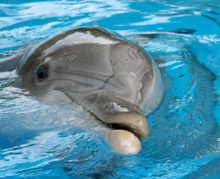 Superior vision and hearing, but no smelling: Most dolphins have acute eyesight, both in and out of the water, and their sense of hearing is superior to that of humans. Though they have a small ear opening on each side of their head, it is believed that hearing underwater is also if not exclusively done with the lower jaw which conducts the sound vibrations to the middle ear via a fat filled cavity in the lower jaw bone. Hearing is also used for echolocation, which seems to be an ability all dolphins have. The dolphin's sense of touch is also well-developed. However, dolphins lack an olfactory nerve and thus have no sense of smell, but they can taste and do show preferences for certain kinds of fish. Since dolphins spend most of their time below the surface in the wild, just tasting the water could act in a manner analogous to a sense of smell.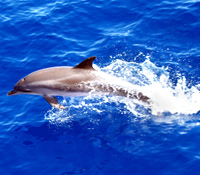 Dolphins are predators, chasing their prey at high speed. The dentition is adapted to the animals they hunt: Species with long beaks and many teeth forage on fish, whereas short beaks and lesser tooth count are linked to catching squid. Some dolphins may take crustaceans. Usually, the prey is swallowed whole. The larger species, especially the orca, are capable of eating marine mammals, even large whales. There are no known reports of cannibalism amongst dolphins.
All text is available under the terms of the GNU Free Documentation License