James Abram Garfield, the twentieth US President (1881) was born November 19, 1831, in Cuyahoga County, Ohio. When Garfield's father died in 1833, he left his family in poverty. Despite severe hardships Garfield managed to put himself through school and become a college professor. Garfield holds the distinction of being the last chief executive to be born in a log cabin.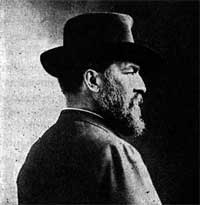 Garfield was a large, well built, good looking man with a gift for writing and oratory. His varied interests included a love of reading and writing poetry. A scholarly man, it was said that Garfield could "write Greek with one hand, while writing Latin with the other." He attended Western Reserve Eclectic Institute at Hiram, Ohio, and graduated from Williams College where one of his teachers was Chester Arthur, his successor as President.
He returned to the Academy as a teacher, and went on to become its president. In 1858, he married Lucretia Randolph, who was a fellow student at Hiram and Chester. They had seven children, one of whom served as Theodore Roosevelt's Secretary of the Interior. Admitted to the Ohio Bar in 1861, James Garfield was the epitome of the Horatio Alger myth (about a self-made man who goes from rags to riches).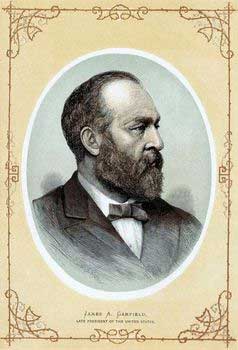 Garfield became a supporter of the newly organized Republican Party. During the Civil War he served as a colonel in the Ohio Volunteer Infantry and saw various actions. When he left the service, he was a major general. Upon returning home he was elected to the United States House of Representatives, where he served until 1880 -- a record seventeen terms, which is more than any other President and a testament to his popularity. While in Congress, Garfield served as Chairman of the House Committee on Appropriations, a position that utilized his fiscal expertise. During the Grant administration he was accused of taking bribes, but the allegation was never proved.
In 1880, Garfield was elected to the Senate, but he never served his term. When he attended the Republican Convention as a supporter of John Sherman, he was nominated on the 36th ballot as a compromise candidate. Garfield won the popular vote by fewer than 10,000 votes, but, unlike Rutherford Hayes, he had a comfortable electoral vote margin. In his inaugural address, Garfield stressed the need for change in the Civil Service and promised that he would send Congress a bill for reform.




Garfield had been in office only two hundred days and had not yet begun to make a name for himself or create a legacy for his presidency when, on July 2, 1881, while boarding a train to attend a college reunion, he was shot by Charles Guiteau, a disgruntled job seeker. Garfield held on for eighty days before finally dying on September 18, 1881. James Garfield was the fourth Chief Executive to die while serving his term. He became the second chief executive to ever be assassinated. Two years after his death, the Pendleton Civil Service Act, the first step towards Civil Service reform, was passed.