Ulysses Simpson Grant was the 18th President and a Civil War hero.




He was born Hiram Ulysses Grant on April 27, l822, in Point Pleasant, Ohio. Due to a Congressman's error, he entered West Point as "Ulysses S." and kept the name. He graduated from West Point in 1843, and was the first President to do so. He served in the Mexican War under Zachary Taylor. He was stationed on frontier posts until 1854 when he resigned from the army to pursue farming and several business ventures, all of which failed.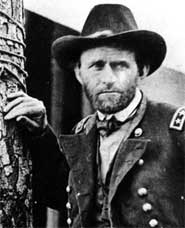 Grant returned to military life when the Civil War began. He was given the rank of colonel and put in charge of training volunteers. He provided the first Union victory in 1862 by capturing Fort Henry and Fort Donelson in Tennessee. As a Brigadier in the Battle of Shiloh, he led his troops to defeat 30,000 Confederate troops led by Pemberton, thus breaking Confederate control of the Mississippi by capturing Vicksburg. With the surrender of Vicksburg, the Union gained control of the Mississippi River, cutting the South into two parts. After his victorious Vicksburg campaign, Grant was made Commander in Chief of the Union Army; and it was he who accepted the surrender of General Robert E. Lee at the Appomattox Court House.
During Grant's years of service as a Union officer he climbed to the highest rank in the United States Army. It was his strategy, determination, and successful campaigns that brought an end to the Civil War. In 1866 Grant was appointed General of the Armies of the United States, a position that only George Washington had held before him.
When President Johnson removed his Secretary of War, Edwin Stanton, Grant was appointed interim Secretary. When Congress did not support his appointment, Grant resigned, causing a rift between him and Andrew Johnson. This public break strengthened Grant's position with the Republican Party.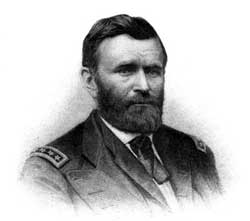 The Republican Party nominated Grant for the presidency in 1868. Because of his status as a military hero, he won by a landslide. He served for two terms and his presidency was marred with widespread corruption. Though a brilliant military commander and strategist, at politics he was a failure. His appointees were dishonest and Congressional investigations showed extortion and kickbacks at the federal, state, and local levels of government. Historians call Grant's administration the most corrupt in US history. President Grant was not personally corrupt, but his lack of attentiveness allowed corruption to flourish in his administration.
Grant's primary presidential accomplishments were passage of the 15th Amendment to the Constitution, which gave the right to vote to slaves, and the completion of the Trans Continental Railroad in Utah. His attitude toward the South remained harsh, and he pursued a vigorously punitive Reconstruction program. His secretary of state, Hamilton Fish, was skillful in the handling of foreign affairs, and the claims against the US by foreign countries for shipping lost during the war were equitably settled. Grant also tried to help farmers with debts and to correct some of the injustices committed against the American Indians. He was instrumental in passing laws to protect the rights of Black people. He also placed an American Indian as the Commissioner of Indian Affairs.
He was able to annex Washington State against a claim by the British, and it became a part of the United States. In 1872 Horace Greeley, a newspaper magnate whose famous saying was "Go west young man, go west" ran against Grant, but lost. Greeley, in his bitterness, used his papers to expose the illegalities and irregularities in Grant's cabinet. This interfered with Grant's effectiveness and ensured that scandal became the trademark of his presidency. Grant's name was put into nomination for a third term in office but the books were closed, and James Garfield was nominated.


Grant left the presidency in disgrace and financial devastation. After his presidency he toured the world before settling in Illinois. Later he moved to New York City where, with the assistance of his friend, Mark Twain, he wrote his memoirs, in part to pay his debts. He died of cancer on July 23 1885. He is buried in Riverside Park, New York with an elaborate tomb to honor him.