Cayman Islands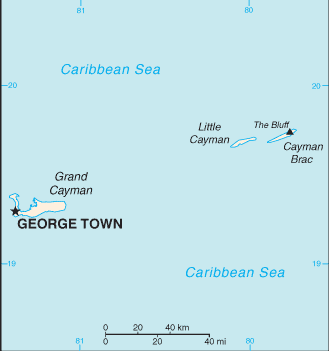 Map Courtesy CIA World Factbook
The Cayman Islands are an overseas territory of the United Kingdom in the West Indies, comprising the islands of Grand Cayman, Cayman Brac, and Little Cayman.
First visited by Christopher Columbus on May 10, 1503 during his fourth and final voyage to the New World, the islands, along with nearby Jamaica, were ceded to Great Britain in 1670 under the Treaty of Madrid. They were governed as a single colony with Jamaica until 1962 when they became a separate British overseas territory and Jamaica became an independent commonwealth realm.
Caymanians enjoy one of the highest standards of living in the West Indies. Most residents are Protestants of British or African descent and many are of mixed racial ethnicity. The islands' main industries are tourism and offshore banking, thanks to the absence of direct taxes. This fact also explains that many foreign companies incorporate on the Cayman Islands to use it as a tax haven.
The Cayman Islands are largely self-governed and universal voting rights are granted to all citizens at the age of 18 years. A legislature is elected by the people every four years. The Governor of the islands serves as the British representative and is appointed by Queen Elizabeth II. The United Nations Committee on Decolonization includes the Cayman Islands on the United Nations list of Non-Self-Governing Territories.
The island of Grand Cayman was severely damaged by the Category Five Hurricane Ivan in September 2004, destroying many buildings and damaging nearly all. Power, water and communications were all disrupted.

All text is available under the terms of the GNU Free Documentation License