British Virgin Islands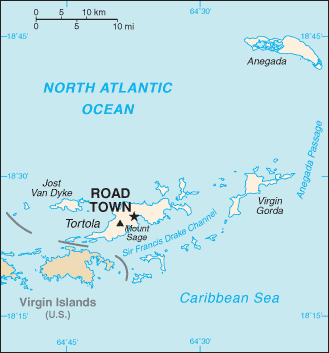 Map Courtesy CIA World Factbook
The British Virgin Islands are a group of over 50 islands and Cays located in the northeast Caribbean. They include Tortola, Virgin Gorda, Anegada, Jost Van Dyke, Great Camanoe, Guana Island, Peter Island, Salt Island, Beef Island, Cooper Island, Ginger Island, Norman Island, and many other small islands all clustered around Sir Francis Drake Channel.
They are an overseas territory of the United Kingdom. The United Nations Committee on Decolonization includes the British Virgin Islands on the United Nations list of Non-Self-Governing Territories.
First settled by the Dutch in 1648, the British Virgin Islands were soon after (1672) annexed by the English. At the end of World War I "British" was incorporated in its name as the United States purchased the adjacent Danish West Indies from Denmark, renamimg them the U.S. Virgin Islands. The economy is closely tied to the larger and more populous U.S. Virgin Islands to the west; the US dollar is the legal currency.

All text is available under the terms of the GNU Free Documentation License