Aruba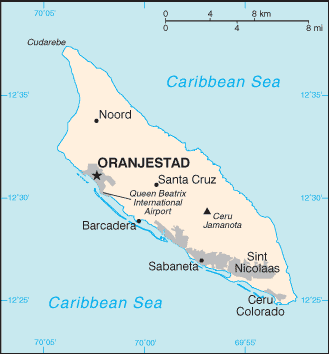 Map Courtesy CIA World Factbook
Aruba is an island in the Caribbean Sea, just a short distance north of the Venezuelan Paraguaná Peninsula, and it forms a part of the Kingdom of the Netherlands. Unlike much of the Caribbean region, it has a dry climate and an arid, cactus-strewn landscape. This climate has helped tourism, however, as visitors to the island can reliably expect warm, sunny weather.
Aruba's first inhabitants were the Caquetios Indians from the Arawak tribe. Fragments of the earliest known Indian settlements date back to about 1,000 A.D. Spanish explorer Alonso de Ojeda is regarded as the first European to arrive in about 1499. In 1636 Aruba was acquired by the Dutch and remained under their control for nearly two centuries. In 1805, during the Napoleonic wars, the English briefly took control over the island, but it was returned to Dutch control in 1816. A 19th-century gold rush was followed by prosperity brought on by the opening in 1924 of an oil refinery. The last decades of the 20th century saw a boom in the tourism industry. In 1986 Aruba seceded from the Netherlands Antilles and became a separate, autonomous member of the Kingdom of the Netherlands. Movement toward full independence was halted at Aruba's prerogative in 1990. Aruba has a mixture of people from the South America and Europe, the Far East, and other islands of the Caribbean.
After a break in the coalition between the ruling Arubaanse Volkspartij (AVP) and the Organisashon Liberal Arubano (OLA), the election of July 1998 was pushed forward to December 1997. Unfortunately, the results were unclear, with votes equally divided between the People's Electoral Movement Party (MEP), the AVP, and the OLA. After negotiations failed to unite the MEP and AVP, a new coalition between the AVP and OLA formed, which forced the MEP to be the opposition. Four years later in September 2001, the opposition MEP won a decisive victory in a free election, taking 12 of 21 seats to form Aruba's first one-party government. Due to its small margin of majority status, the MEP has left open the possibility of a future coalition partner.

All text is available under the terms of the GNU Free Documentation License