U.S. Virgin Islands
.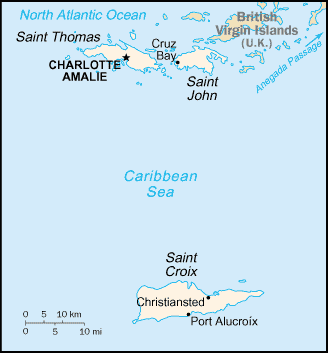 Map Courtesy CIA World Factbook
The United States Virgin Islands is a group of islands in the Caribbean that is a dependency of the United States. These islands are geographically part of the Virgin Islands. The United Nations Committee on Decolonization includes the U.S. Virgin Islands on the United Nations list of Non-Self-Governing Territories.
The Virgin Islands were originally settled by the Ciboney, Carib, and Arawaks. The islands were named by Christopher Columbus on his second voyage in 1493. Over the next three hundred years, the islands were held by many European powers, including Spain, England, Netherlands, France, the Knights of Malta, and Denmark.
The Danish West India Company settled on Saint Thomas in 1672, on Saint John in 1694, and purchased Saint Croix from the French in 1733. The islands became royal Danish colonies in 1754. Sugarcane, produced by slave labor, drove the islands' economy during the 18th and early 19th centuries, until the abolition of slavery by Governor Peter von Scholten on July 3, 1848.
During the submarine warfare phases of the First World War, the USA, fearing that the islands might be seized by Germany as a submarine base, approached Denmark to sell the islands to the USA. On January 17, 1917, the United States bought the Danish West Indies for $25 million and took possession of the islands on March 31. The Danish Crown may have felt pressure to accept the sale, thinking that the USA would seize the islands, if Denmark was invaded by Germany. US citizenship was later granted to the inhabitants of the islands in 1927.
All text is available under the terms of the GNU Free Documentation License