Netherlands Antilles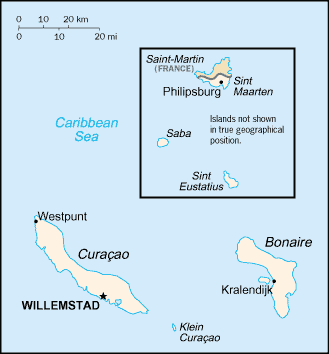 Map Courtesy CIA World Factbook
The Netherlands Antilles (Dutch: Nederlandse Antillen), previously known as the Netherlands West Indies, are part of the Lesser Antilles and consist of two groups of islands in the Caribbean Sea that form an autonomous part of the Kingdom of the Netherlands (none of the other Antilles use this term in their name). The islands' economy is dependent mostly upon tourism and oil, though a large amount of money is also made through illegal drug trafficking.
Both the Leeward (Alonso de Ojeda, 1499) and Windward (Christopher Columbus, 1493) island groups were discovered and initially settled by the Spanish. In the 17th century, the islands were conquered by the Dutch West India Company and were used as bases for slave trade. Only in 1863 was slavery abolished.
In 1954, the islands were promoted from colony to a part of the Kingdom of the Netherlands. The island of Aruba was part of the Netherlands Antilles until 1986, when it was granted a "status aparte", and became a separate part of the kingdom. Some of the other islands have indicated that they wish to obtain the same status, but no agreements on this have yet been reached. Other options sometimes considered are independence or together becoming a province of the Netherlands.
All text is available under the terms of the GNU Free Documentation License