Monserrat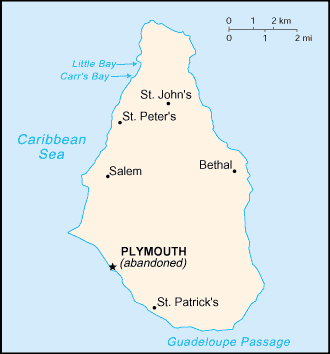 Map Courtesy CIA World Factbook
Montserrat is an island in the Caribbean Sea, named after the mountain of the same name (located near Barcelona, Spain see Montserrat (mountain)) by Christopher Columbus in 1493.
Montserrat is an overseas territory of the United Kingdom. The United Nations Committee on Decolonization includes Montserrat on the United Nations list of Non-Self-Governing Territories.
Much of this island was devastated and two-thirds of the population fled abroad due to the eruption of the Soufriere Hills volcano that began on July 18, 1995. Volcanic eruptions have continued, making large parts of the island uninhabitable.
Montserrat was populated by Arawak and Carib peoples when it was claimed by Christopher Columbus for Spain in 1493, naming the island 'Santa María de Montserrat'. The island fell under British control in 1632. The import of slaves, mainly from Ireland and West Africa followed, during the 17th and 18th centuries.
From 1871 to 1956 it was administed as part of the Windward Islands federation. It was a province of the short-lived West Indies Federation from 1958 to 1962. It was briefly captured by France between 1782 until 1783, when it was returned under the Treaty of Versailles.
In 1995 the Soufriere Hills volcano started erupting. Volcanic activity in 1997 was to cause the evacuation of most of the island, including the capital, Plymouth, and the departure of over half the island's population, but the island remains inhabited.
The residents were granted full residency rights in the United Kingdom in 1998, and citizenship was granted in 2002.
Many famous albums were recorded in Montserrat as the isolation allows musicians to be creative. Brothers in Arms by Dire Straits is one example. Sting featured on Money for Nothing because Mark Knopfler ran into him while he was holidaying there.
All text is available under the terms of the GNU Free Documentation License