Jamaica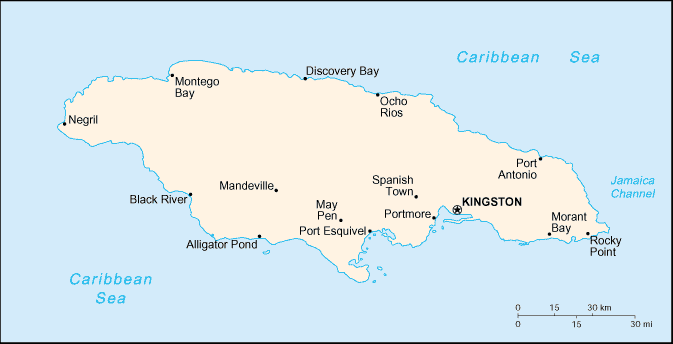 Map Courtesy CIA World Factbook
Jamaica is a country in the Caribbean Sea, located south of Cuba and to the west of Hispaniola, on which Haiti and the Dominican Republic are situated.
The name of the country derives from the name Xaymaca, meaning land of wood and water, given to it by the original Arawak or Taino people from South America, who first settled there around the year 1000 - 400 BC.
Jamaica was claimed for Spain after Christopher Columbus first landed there in 1494. Columbus used it as his family's private estate. The English Admiral William Penn (father of William Penn of Pennsylvania) and General Venables seized the island in 1655. During its first 200 years of British rule, Jamaica became the world's largest sugar exporting nation and produced over 77,000 tons of sugar annually between 1820 - 1824, which was achieved through the massive use of imported African slave labor.
By the beginning of the 19th century, Britain's heavy reliance on slavery resulted in blacks outnumbering whites by a ratio of almost 20 to one, leading to constant threat of revolt. Following a series of rebellions, slavery was formally abolished in 1838.
Jamaica slowly gained increasing independence from the United Kingdom, and in 1958 Jamaica became a province in the Federation of the West Indies, a federation between all the British West Indies. Jamaica attained full independence by leaving the federation in 1962 and is now a completely sovereign nation. Jamaica celebrated the tricentennial of British rule in 1955.
Deteriorating economic conditions during the 1970s led to recurrent violence and a drop-off in tourism.
Former capitals of Jamaica include Port Royal, where the pirate Governor Morgan held sway, and which was destroyed by a storm and earthquake, and Spanish Town, in St. Catherine parish, the site of the old Spanish colonial capital and the English capital during the 18th and 19th century.
All text is available under the terms of the GNU Free Documentation License