Anguilla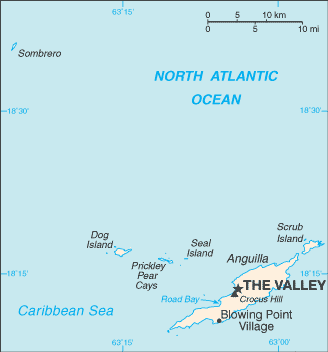 Map Courtesy CIA World Factbook
Anguilla, or Snake Island, is the most northerly of the Leeward Islands in the Lesser Antilles, and is a British overseas territory with Queen Elizabeth II as its head of state, represented by a Governor. The locally elected Chief Minister of the island serves as head of government. The United Nations Committee on Decolonization includes Anguilla on the United Nations list of Non-Self-Governing Territories.
Colonized by English settlers from Saint Kitts in 1650, the island of Anguilla was administered by Great Britain until the early 19th century, when the island - against the wishes of the inhabitants - was incorporated into a single British dependency along with Saint Kitts and Nevis. Several attempts at separation failed, including a referendum on 11 July 1967 with 1813 votes for secession and 5 against. In 1971, two years after a revolt which prompted a British military intervention, Anguilla was finally allowed to secede from Saint Kitts and Nevis; this arrangement was formally recognized in 1980 with Anguilla becoming a separate British dependency, which it remains.
The island's main industries are fishing and tourism, with offshore banking playing an increasing role in the economy. Military defence is the responsibility of the United Kingdom. The majority of Anguillans are Protestant and are of African descent.

All text is available under the terms of the GNU Free Documentation License