Benin
Map Courtesy CIA World Factbook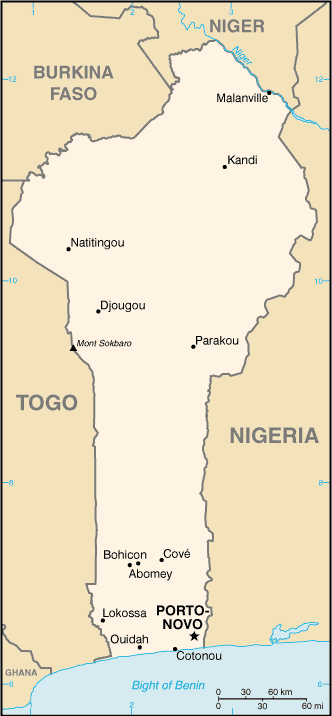 The Republic of Benin is a nation of western Africa, formerly known as Dahomey. It has a small coast line with the Bight of Benin in the south, borders Togo in the west, Nigeria in the east, and Burkina Faso and Niger in the north.
The African kingdom of Dahomey originated in Benin. By the 17th century, the kingdom, ruled by an oba, stretched beyond the borders of present-day Benin, covered a large part of West-Africa. The kingdom was prosperous and established slave trading relations with the Europeans (mostly Portuguese and Dutch) who first arrived in the late 15th century. The coastal part of the kingdom became known as the Slave Coast.
By the 18th century, Dahomey started to fall apart, enabling the French to take over the area in 1892. In 1899, the land became part of the French West Africa colony, still as Dahomey. In 1958, it was granted autonomy as the Republic of Dahomey, and full independence started on August 1, 1960.
For the next 12 years, ethnic strife contributed to a period of turbulence. There were several coups and regime changes, with three main figures dominating - Sourou Apithy, Hubert Maga, and Justin Ahomadegbé - each of them representing a different area of the country. These three agreed to form a presidential council after violence had marred the 1970 elections. In 1972, a military coup led by Mathieu Kérékou overthrew the council. He established a Marxist government under the control of Military Council of the Revolution (CNR), and the country was renamed to the People's Republic of Benin in 1975. In 1979, the CNR was dissolved and elections took place. By the late 1980s, Kérékou abandoned Marxism after an economic crisis and decided to re-establish a parliamentary capitalist system. He was defeated in 1991 elections, becoming the first black African president to step down after an election. He returned to power after winning the 1996 vote. In 2001, a closely fought election resulted in Kérékou winning another term. His opponents claimed there were some election irregularities.
| | |
| --- | --- |
This article is licensed under the