The World Wars
World War I (The Great War)
The First World War, also known as the Great War, was a world conflict occurring from 1914 to 1918. No previous conflict had mobilized so many soldiers or involved so many in the field of battle. Never before had casualties been so high. Chemical weapons were used for the first time, the first mass bombardment of civilians from the sky was executed, and some of the century's first large-scale civilian massacres took place. Four dynasties, the Habsburgs, the Romanovs, the Ottomans and the Hohenzollerns, who had roots of power back to the days of the Crusades, all fell after the war.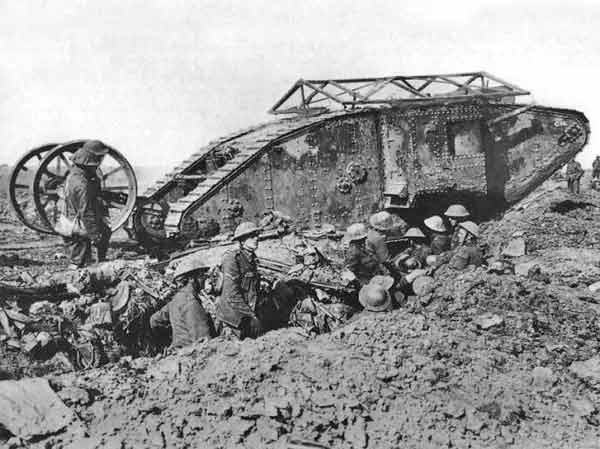 An early model British Mark I "male" tank, named C-15, near Thiepval, 25 September 1916. The tank is probably in reserve for the Battle of Thiepval Ridge which began on 26 September. The tank is fitted with the wire "grenade shield" and steering tail, both features discarded in the next models.
World War I proved to be the decisive break with the old world order, marking the final demise of absolutist monarchy in Europe. It would prove the catalyst for the Russian Revolution, which would inspire later revolutions in countries as diverse as China and Cuba, and would lay the basis for the Cold War standoff between the Soviet Union and the United States. The defeat of Germany in the war and failure to resolve the unsettled issues that had caused the Great War would lay the basis for the rise of Nazism, and thus the outbreak of World War II in 1939. It also laid the basis for a new form of warfare that relied heavily on technology, and would involve non-combatants in war as never before.
World War I became infamous for trench warfare, where huge numbers of troops were confined to trenches and could move little because of tight defenses. This was especially true of the Western Front. Over 9 million died on the battlefield, and nearly that many more on the home front due to food shortages, genocide, and ground combat.
World War II
World War II was a global conflict that started on 7 July 1937 in Asia and 1 September 1939 in Europe and lasted until 1945, involving the majority of the world's states and every inhabited continent. Virtually all countries that participated in World War I were involved in World War II. It was the most extensive and costly armed conflict in the history of the World.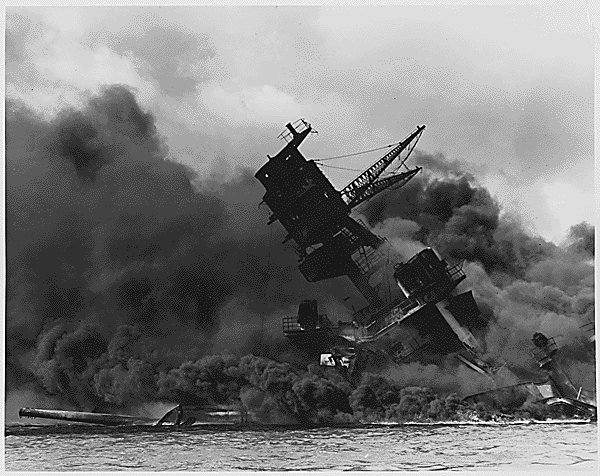 USS Arizona sunk at Pearl Harbor. The ship is resting level on the bottom. The supporting structure for the gun director tripod mast has collapsed and tilted.

Attributed in varying degrees to the Treaty of Versailles, the Great Depression, nationalism, and militarism, the causes of the war are a matter of debate. On which date the war began is also debated, cited as either the German invasion of Poland on 1 September 1939, the Japanese invasion of China on 7 July 1937 (the start of the Second Sino-Japanese War), or earlier yet the 1931 Japanese invasion of Manchuria. Still others argue that the two world wars are one conflict separated only by a "ceasefire".

Fighting occurred across the Atlantic Ocean, in Western and Eastern Europe, in the Mediterranean Sea, Africa, the Middle East, in the Pacific and South East Asia, and it continued in China. In Europe, the war ended with the surrender of Germany on 8 May 1945 (V-E and Victory Days), but continued in Asia until Japan surrendered on 15 August 1945 (V-J Day).

Approximately 57 million people died as a result of the war, including acts of genocide such as the Holocaust. As a case of total war, it involved the "home front" and bombing of civilians to a new degree. Nuclear weapons, jet aircraft, and RADAR are only a few of many war-time inventions.







This article is licensed under the